Marble Cleaning  Honing Polishing  Sealing  Grinding
Marble has been chosen as a floor covering for thousands of years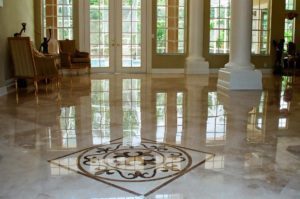 not only because it is durable but mainly because its ability to be a work of art. We have all the standard abrasives such as diamond pads and powders for cleaning, sealing and polishing marble. Our never ending effort to advance the abrasive processes for travertine have given us an advantage over our competitors because we can use these techniques for the beautification of marble as well. Call today for all your Marble Cleaning Honing Polishing Sealing Grinding needs!
The cleaning, finishing, and sealing methods for Marble are very similar to what we do for Travertine and Limestone. (Click here to return to Travertine Services)
 Some Important Notes on Marble:
Marble is a denser stone than Travertine which means less air pockets and less fill overall. It comes in a very wide variety of colors and usually looks its best at a medium high shine or high gloss polish. The very low amount of filler provides for a very clear and consistent shine throughout the Marble floor.