Limestone Cleaning Honing Polishing Sealing  
The cleaning, finishing & sealing methods for Limestone are very similar to what we do for Travertine and Marble.(Click here to return to Travertine Services)
Some Important Notes on Limestone:
Limestone is sometimes thought to be Marble or even Travertine,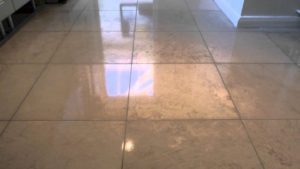 but it's neither. Limestone is a very tricky floor to finish due in large part to being a softer stone. Knowing the right abrasives to use is key to a good result. 
The Pacific Cleaning System for Limestone floors utilizes a very light custom abrasive to remove light scratches and etches. Generally, Limestone is factory polished before installation, but even new Limestone floors may need to be re-polished due to the standard installation process. We then sand the floor to a satin glow, custom medium polish, or a super high polish, depending on the customer's preferences. 
Limestone is more absorbent than Marble or Travertine, although all natural stone is porous. Limestone's capillaries, which are similar to microscopic straws, will pull water deep into the stone and cause permanent damage including etching and staining. Pacific's Power Clean uses only the best penetrating sealant, which prevents damage as much as possible, but even top quality sealant cannot fully protect forever. If your floor is damaged, you may require a more extensive abrasive process to restore it before the finishing process is commenced.